Exclusive materials
We only process the finest leathers and skins from renowned tanneries. Here they are tanned under strict conditions and with the highest quality standards. The leathers we use are free of allergy-causing AZO dyes. Many of our leathers are available in different strengths and colours.
Of course, different leathers have different characteristics depending on the type of tanning. So which leather or hide is the right one for your needs or for your individual project?
We are happy to help and advise you.
We have a soft spot for real rarities: Rare, often single skins, such as chamois-tanned bull leather, exorbitantly thick and rustic alpine deer, extreme ostrich skins from particularly old breeding animals.... From these we create unique, non-reproducible leather items.
Another specialty: we make buttons from old silver coins and silver medals. Here a whole cosmos of themes and motives opens up. You have your own very special ideas: In cooperation with a goldsmith, we also make your own individual buttons from sterling silver. If you like it plainer, our selection of handmade natural buttons made of deer horn or buffalo horn will surely convince you.
Choose your favorite lining fabric from our repertoire:
We offer various cotton fabrics, linen, silk or Scottish tartan made of pure new wool in different colours and in the finest qualities. For many jackets and vests, a lining made of a supple leather, a light, soft calfskin or a warming merino lambskin is an exclusive alternative.
No compromise on yarns, zippers, snaps, clasps and eyelets either - we always choose the best possible ingredients. For example, all of our clasps and metal loops are cast from solid brass and some are silver plated, all eyelets are brass, guaranteed not to rust. We offer our high-quality, smooth-running metal zippers from Riri, YKK and Heiligenstädter from 4 mm to the enormous thickness of 14 mm.
Our leathers and skins:
cowhide
bull neck leather
horse leather
lambskin
chamois deerskin
wapiti
elk leather
ostrich leather
crocodile leather
snakeskin
reindeer leather
stingray
salmon leather
Merino lambskin
Tuscany lambskin
Iceland sheepskin
calfskin
goatskin
blank and saddle leather
We only process exotic leathers with Cites certification!
Python
Calfskin in leopard look
Crocodile leather hornback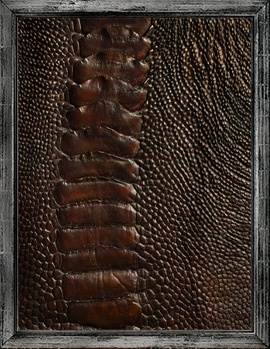 Ostrich leg
Deerskin with Mexican Silver Peso
Ostrich Leather with American Morgan Dollar
Horsehide with Canadian Silver Dollar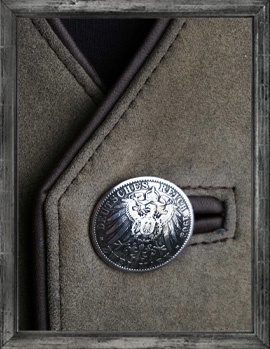 Chamois-tanned deerskin with Reichsmark